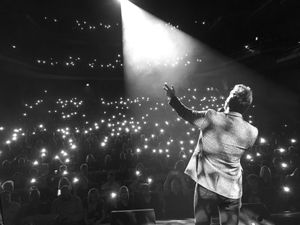 Nathan Pacheco is a classically trained tenor who has a passion for reaching out and uplifting people through music. He has been featured globally in live performances, including touring the United States, Canada, and Mexico with Yanni; performing with Latin singing sensation Olga Tañon; touring England, Scotland, and Wales with Katherine Jenkins and the National Symphony Orchestra; performing for Prince Charles in conjunction with the British Forces Foundation and the USO; and performing with orchestras and symphonies around the US.  
Introducing Nathan Pacheco and Christmas with Nathan Pacheco began airing on PBS in 2012. Nathan has also been featured prominently in broadcasts with Yanni and The Tabernacle Choir. He has been featured on multiple Yanni recordings, including on the album Inspirato, where Nathan was featured alongside Plácido Domingo, Renée Fleming, and other opera stars. 
Nathan's debut album was released in 2012 by Disney Pearl, an affiliate of Disney Music Group. His second album, Nathan Pacheco II, was released on Valentine's Day 2015. Nathan collaborated with David Archuleta in November 2015 to release "The Prayer," which quickly climbed to #3 on the holiday charts on iTunes. And in 2016, David and Nathan performed together for a largely sold-out Christmas tour.  Nathan produced and arranged his first sacred songs album, Higher, which was released in February 2017 and was ranked #1 on Billboard for best classical and classical/crossover album.