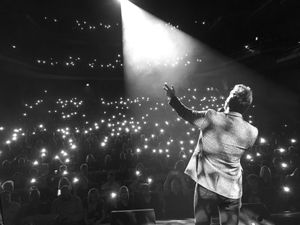 Nathan Pacheco is a classically trained tenor who has a passion for reaching out and uplifting people through music. He is one of the great tenor voices of his generation and has been featured globally in live performances, including touring the United States, Canada, and Mexico with Yanni; performing with Latin singing sensation Olga Tañon; touring England, Scotland, and Wales with Katherine Jenkins and the National Symphony Orchestra; and performing with orchestras and symphonies around the US.  
Nathan has been featured on multiple Yanni recordings, including on the album Inspirato, where Nathan was featured alongside Plácido Domingo, Renée Fleming, and other opera stars. Over the years, Nathan has released multiple albums with Shadow Mountain Records that have been ranked #1 on Billboard for best classical and classical/crossover album. In the spring of 2023, Nathan released Abide With Me, a collection of some of his favorite hymns, featuring everything from a Coldplay cover to traditional hymns like "Be Still My Soul." 
A Christmas With Nathan Pacheco tour was announced in August of 2023. The tour will feature Christmas favorites, original music, and other classics.